Smriti H. Deshmukh, MD FACC
Cardiology, Echocardiology
170 Maple Avenue, Suite 104, White Plains, NY 10601
(914) 849-7105
Biography
Dr. Smriti Deshmukh is board certified in Cardiology,  Echocardiography and Nuclear Cardiology. Her areas of clinical expertise include adult cardiology, as well as advanced echocardiography and nuclear cardiac imaging.  She will serve as the Director of Echocardiography at White Plains Hospital.
Dr. Deshmukh completed her undergraduate studies at the University of Illinois at Urbana-Champaign. She completed a master's degree in applied physiology as well as her medical degree at the Finch University of Health Sciences/Chicago Medical School.   She completed her residency in Internal Medicine and fellowship in Cardiology at Saint Vincent's Hospital in Manhattan.  She received advanced fellowship training in Echocardiography at  New York Presbyterian/ Columbia University Medical Center.
Her professional memberships include the American Society of Echocardiography, the American College of Cardiology and the American Society of Nuclear Cardiology.  Dr. Deshmukh's research has been published in a wide variety of scholarly publications and she has lectured and presented extensively in academic settings.
Access Smriti H. Deshmukh, MD FACC's
latest articles, videos, and featured media
Recent Patient Comments
In The News
Dr. Deshmukh
Listen to Dr. Deshmukh discuss healthy lifestyle tips for your heart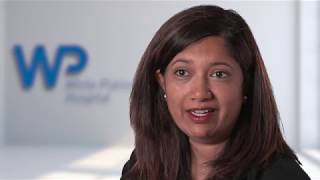 Meet Our Doctor Video
A Video by Dr. Deshmukh
Education & Training
Medical Degree
Finch University of Health Sciences/Chicago Medical School
Post-graduate Training
Residency, Internal Medicine, Saint Vincent's Hospital
Fellowship, Echocardiography, Columbia University Medical Center
Fellowship, Cardiovascular Medicine, Saint Vincent's Hospital
Board Certification(s)
Cardiology
Echocardiography
Nuclear Cardiology
Membership(s)
American Society of Echocardiography
American College of Cardiology
American Society of Nuclear Cardiology
Institutional Affiliations
Overall Satisfaction
95 Ratings |
Aggregate Rating