Kristan Dale Zimmermann, MD
Radiology
41 East Post Road, White Plains, NY 10601
(914) 681-1260
Biography
The radiologists at White Plains Hospital Physician Associates are fellowship-trained and board-certified in diagnostic radiology, with many having specialty areas of interest and focus. Utilizing state-of-the-art technology, radiologists provide CT scans, PET scans, ultrasounds, x-rays, mammograms and MRIs among other services.
To book an imaging appointment with White Plains Hospital, please
clre
.
Access Kristan Dale Zimmermann, MD's
latest articles, videos, and featured media
In The News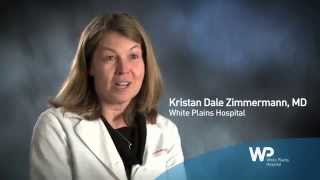 Meet Our Doctor Video
A Video by Dr. Zimmermann
Read more news at
Health Matters
, a White Plains Hospital publication.
Education & Training
Medical Degree
University of Cincinnati College of Medicine
Post Graduate Training
Residency – Radiology; Columbia Presbyterian Fellowship – Ultrasound/CT/MRI; Yale New Haven
Institutional Affiliations
White Plains Hospital Radiology