Jeffrey Vainshtein, MD
Radiation Oncology
2 Longview Avenue, Ground Floor, White Plains, NY 10601
(914) 849-2727
(914) 681-2795
Biography
Dr. Vainshtein is a radiation oncologist with the White Plains Hospital Cancer Program.
Dr. Vainshtein leads WPH's stereotactic radiosurgery program and specializes in the management of head and neck, lung, esophageal, prostate, bladder, pancreaticobiliary, liver, stomach, anorectal, and brain and spine cancers, with experience in the treatment of lymphomas, sarcomas, breast, and gynecological cancers. He has expertise in the use of numerous advanced radiotherapy treatment techniques, including intensity modulated radiation therapy (IMRT), volumetric modulated arc therapy (VMAT), image guided radiation therapy (IGRT), stereotactic radiosurgery (SRS), stereotactic ablative radiotherapy/stereotactic body radiotherapy (SABR/SBRT) and 3D-conformal radiotherapy (3D-CRT).
Dr. Vainshtein received his MD from Albert Einstein College of Medicine in Bronx, NY. He completed an internship in General Surgery at Saint Joseph Mercy Hospital in Ann Arbor, MI and residency training in Radiation Oncology at the University of Michigan in Ann Arbor, where he was selected to serve as chief resident. Prior to joining WPH, Dr. Vainshtein was a faculty member in Radiation Oncology at the Winship Cancer Institute of Emory University School of Medicine in Atlanta, GA. He is board certified in Radiation Oncology and is a Diplomate of the American Board of Radiology. He is an active member of the American Society for Radiation Oncology (ASTRO), New York Head and Neck Society, and Westchester County Medical Society, where he serves as co-chair of the Young Physicians Committee.
Access Jeffrey Vainshtein, MD's
latest articles, videos, and featured media
Collectively, Dr. Vainshtein has authored or co-authored over 50 peer-reviewed manuscripts, abstracts, and textbook chapters on the management of head and neck, gastrointestinal, lung, and genitourinary cancers, and has lectured nationally on the use of advanced radiotherapy technologies for cancer treatment.
Medical Expertise

Head and neck cancer
Thoracic cancers
GI cancers
GU cancers
Breast cancer
Central nervous system cancers
Lymphoma
Sarcomas
Gynecologic cancers (ovarian, cervical, uterine)
External beam radiation therapy
Brachytherapy
Radiation therapy related imaging
In The News
Radiation Oncology
Listen to Dr. Vainshtein Discuss Radiation Oncology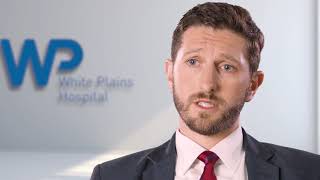 Meet Our Doctor Video
A Video by Dr. Vainshtein
Read more news at
Health Matters
, a White Plains Hospital publication.
Education & Training
Medical Degree
Albert Einstein College of Medicine, Bronx, NY
Post-graduate Training
Internship - General Surgery, Saint Joseph Mercy Hospital, Ann Arbor, MI
Residency - Radiation Oncology, University of Michigan, Ann Arbor, MI
Membership(s)
American Society for Radiation Oncology
American Society of Clinical Oncology
New York Head and Neck Society
Westchester County Medical Society
Institutional Affiliations