Preya Ananthakrishnan, MD
Breast Surgery
2 Longview Avenue, Suite 400, White Plains, NY 10601
(914) 849-7580
(914) 849-7555
Biography
Dr. Ananthakrishnan, Director of Breast Surgery, is a fellowship-trained breast surgeon whose practice is dedicated to the treatment of breast disease.  She has extensive experience, previously serving on the faculty of the Cleveland Clinic and Columbia University College of Physicians and Surgeons.  She was the director of the Breast Surgery Fellowship at Columbia, and used her expertise to train the next generation of breast surgeons. She is the author of numerous publications on breast cancer surgery, and has presented her research at national and international meetings.  Dr. Ananthakrishnan is a Fellow of the American College of Surgeons, a member of the American Society of Breast Surgeons, and a member of the Society of Surgical Oncology.
Dr. Ananthakrishnan performs all types of breast surgery, including breast conservation (or lumpectomy), mastectomy, nipple-sparing mastectomy, and axillary lymph node procedures.  She has particular expertise in nipple-sparing mastectomy procedures, and works closely with the plastic surgery and anesthesia teams to ensure the best oncologic, cosmetic, and functional outcomes after breast surgery.
Access Preya Ananthakrishnan, MD's
latest articles, videos, and featured media
Dr. Ananthakrishnan also works on a multidisciplinary team with colleagues in medical oncology, radiation oncology, plastic surgery, genetics, and radiology to ensure that every patient receives an individualized treatment plan that fits their life and their disease.  Dr. Ananthakrishnan runs the White Plains Hospital breast cancer tumor board, where breast cancer cases are discussed so that each patient gets the expertise of the entire multidisciplinary team to ensure comprehensive care.
Awards & Honors:
Castle Connolly Top Doctors- Breast Surgery- 2018 & 2019
Recent Patient Comments
In The News
Breast Surgery
Listen to Dr. Ananthakrishnan Discuss Breast Health
Breast Surgery
Listen to Dr. Ananthakrishnan Discuss Surgery Techniques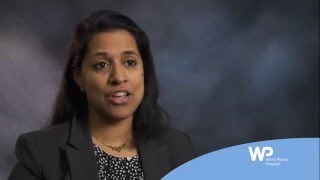 Meet Our Doctor Video
A Video by Dr. Ananthakrishnan
Read more news at
Health Matters
, a White Plains Hospital publication.
Education & Training
Medical Degree
University of Louisville School of Medicine, Louisville, KY
Post-graduate Training
Residency, University of Medicine and Dentistry, Newark, NJ
Fellowship, John Wayne Cancer Institute, Santa Monica, CA.
Membership(s)
American College of Surgeons
American Society of Breast Surgeons
Society of Surgical Oncology
Institutional Affiliations
Overall Satisfaction
179 Ratings |
Aggregate Rating