Dan Costin, MD
Hematology & Oncology
2 Longview Avenue, Suite 300, White Plains, NY 10601
(914) 849-7630
(914) 849-7694
Biography
Dr. Dan Costin is Director of the White Plains Hospital Center for Cancer Care. He has been practicing medical oncology and hematology in Westchester since 1993. He received his B.S. in biochemistry at the University of California in Los Angeles and his medical degree at the University of California in San Francisco. He completed his internal medicine residency at Beth Israel Hospital in Boston in 1990, his fellowship in medical oncology at the National Cancer Institute in Bethesda in 1991, and his fellowship in hematology at New York University in 1993. He has been an attending physician at White Plains Hospital since 1993 and served as section chief of the department of Hematology-Oncology from 1999 to 2007.
Dr. Costin is the founding member of Cancer and Blood Specialists of New York (CAB-SNY) and continues to this day as its medical director. After the Dickstein Cancer Treatment Center was completed in 1999, he relocated CAB-SNY into the newly designed free standing cancer center. He is one of the sentinel members of the White Plains Hospital Cancer Program and presently serves as co-medical director of the Program. He was chairperson of the Multidisciplinary Tumor Board Conference for 15 years, presiding over 750 meetings, at which time over 3,000 patients were presented and discussed.
Access Dan Costin, MD's
latest articles, videos, and featured media
Dr. Costin has always had an active interest in research.  He has been principal investigator or co-investigator on over 100 different protocols offered at the White Plains Cancer Program over the past 20 years. He is the principal investigator on the following studies that are presently open at the Center for Cancer Care at White Plains Hospital:
Advanced solid malignancies:
STRONG protocol: an open-label, multi-center safety study of fixed-dose durvalumab and tremelimumab combination therapy or durvalumab monotherapy in advanced solid malignancies.
Bladder cancer:
STRONG bladder cancer protocol: safety study of fixed-dose durvalumab for patients with urothelial and non-urothelial carcinoma.
Breast cancer:
NSABP-B55: A Randomized double-blind Placebo-controlled multi-center Phase III study to assess the efficacy and safety of Olaparib versus placebo as adjuvant treatment in patients with Germline BRCA1/2 mutations and high risk HER2 negative primary breast cancer.
S1418: A Randomized phase III trial to evaluate the efficacy and safety of MK-3475 (pembrolizumab) as adjuvant therapy for triple receptor-negative breast cancer with >/=1 cm residual invasive cancer or positive lymph nodes after neoadjuvant chemotherapy.
GSK201973: A phase I/II dose escalation and expansion study to investigate the safety, pharmacokinetics, pharmacodynamics, and clinical activity of GSK525762 in combination with fulvestrant in subjects with ER+ breast cancer.
Gynecologic cancer:
NRG-GY004: A phase III study comparing single-agent Olaparib or the combination of cediranib and Olaparib to standard platinum-based chemotherapy in women with recurrent platinum-sensitive ovarian, fallopian tube, or primary peritoneal cancer.
NRG-GY-005: A randomized phase II/III study of the combination of cediranib and Olaparib compared to cediranib or Olaparib alone, or standard of care chemotherapy in women with recurrent platinum-resistant or –refractory ovarian, fallopian tube, or primary peritoneal cancer.
Liver cancer:
MK-3475-Keynote240: A phase III study of pembrolizumab versus best supportive care as second-line therapy in subjects with previously systemically treated advanced hepatocellular carcinoma.
Lung cancer:
CA209-CHECKMATE370: A master protocol of phase ½ studies of nivolumab in advanced NSCLC using nivolumab as maintenance after induction chemotherapy or as first-line treatment alone or in combination with standard of care therapies.
MK3474-Keynote407: A randomized double blind phase III study of carboplatin-Paclitaxel/Nab-paclitaxel chemotherapy with or without pembrolizumab in first line metastatic squamous non-small cell lung cancer.
Lung biopsy study: Next generation DNA sequencing of malignant tumors obtained by Lung biopsy – a prospective clinical registry.
Malignant melanoma:
E3612: A randomized  phase II trial of Ipilimumab with or without Bevacizumab in patients with unresectable stage III or stage IV melanoma.
Myelodysplastic syndrome (MDS) / acute myeloid leukemia (AML):
Onconovoa 09-08: Phase I/II, multi-center, dose-escalating study of the tolerability, pharmacokinetics, and clinical activity of the combined administration of oral rigosertib with azacitidine in patients with MDS or AML.
Prostate cancer:
S1216: A phase III randomized trial comparing androgen deprivation therapy + TAK-700 with androgen deprivation therapy + bicalutamide in patients with newly diagnosed metastatic hormone sensitive prostate cancer.
Renal cancer:
EA8143 (PROSPER RCC): A phase III randomized study comparing perioperative nivolumab versus observation in patients with localized renal cell carcinoma undergoing nephrectomy.
Sarcoma:
A091304: A phase I/II randomized study of MLN0128 versus Pazopanib in patients with locally advanced unresectable and/or metastatic sarcoma.
Supportive and complementary care:
DEALS-EPS: Dietary education and livestrong exercise program study.
Tommie Copper: Pilot evaluation of Tommie copper material and its impact on pain control.
Dr. Costin is also a co-investigator on several other open studies at Center for Cancer Care at White Plains Hospital, including:
A011106: alternate approaches for clinical stage II or III estrogen receptor positive breast cancer in postmenopausal women.
AO11401: trial evaluating the role of weight loss in adjuvant treatment of overweight and obese women with early breast cancer.
A011502: randomized phase III double-blinded trial of aspirin as adjuvant therapy for node positive HER2 negative breast cancer – the ABC trial.
E2112: randomized phase III trial of endocrine therapy plus entinostat/placebo in postmenopausal patients with hormone receptor positive advanced breast cancer.
NRG-BR003: randomized study of adjuvant therapy comparing AC followed by paclitaxel with our without carboplatin for node-positive or high-risk node-negative triple negative invasive breast cancer.
S1207: phase III randomized clinical trial evaluating adjuvant endocrine therapy +/- one year of everolimus in patients with high-risk hormone receptor-positive and HER2 negative breast cancer.
S1416: phase II randomized placebo-controlled trial of cisplatin with or without Veliparib in metastatic triple-negative breast cancer and/or BRCA mutation-associated breast cancer.
A081105: randomized double blind placebo controlled study of erlotinib or placebo in patients with completely resected EGFR mutant non-small cell lung cancer.
A151216: Adjuvant lung cancer enrichment marker identification and sequencing trial (ALCHEMIST).
E4512: phase III double-blind trial for surgically resected early stage non-small cell lung cancer – crizotinib versus placebo for patients with tumors harboring the anaplastic lymphoma kinase (ALK) fusion protein.
EA5142: A randomized phase III study of nivolumab after surgical resection and adjuvant chemotherapy in non-small cell lung cancer (ANVIL).
E3106: randomized phase III trial of lenalidomide versus observation alone in patients with asymptomatic high-risk smoldering multiple myeloma.
S1513: randomized phase II study of 2nd line FOLFIRI versus modified FOLFIRI with PARP inhibitor ABT-888 (Veliparib).
EAY131: molecular analysis for therapy choice (MATCH).
Dr. Costin lives in White Plains with his wife Sandra and their two beautiful children, Diana and Jeremy. He enjoys golf, art, photography, opera, and literature.
Recent Patient Comments
In The News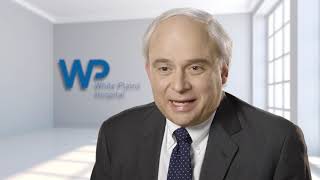 Meet Our Doctor Video
A Video by Dr. Costin
Read more news at
Health Matters
, a White Plains Hospital publication.
Education & Training
Medical Degree
University of California, San Francisco
Post-graduate Training
Fellowship, Medical Oncology - National Cancer Institute, Bethesda
Fellowship, Hematology - New York University, New York
Residency, Internal Medicine - Beth Israel Hospital, Boston
Board Certification(s)
American Board of Medical Oncology
American Board of Hematology
American Board of Internal Medicine
Membership(s)
American College of Physicians
American Medical Association
American Society of Hematology
American Society of Clinical Oncology
Massachusetts Medical Society
Institutional Affiliations
White Plains Hospital
Burke Rehabilitation Hospital
Overall Satisfaction
232 Ratings |
Aggregate Rating