Cynthia Chin, MD
Thoracic Surgery
15 Laurel Avenue, Suite 100, Cornwall, NY 12518
914-849-7655
2 Longview Avenue, Suite 500, White Plains, NY 10601
(914) 849-7655
Biography
Dr. Cynthia Chin serves as a Thoracic surgeon and Director of the Women's Cancer Program Services at White Plains Hospital. Born and raised in Westchester County, she relocated her clinical practice in 2012 from Mount Sinai Medical Center, where she served as the Director of the Women's Lung Cancer Treatment Program, to White Plains.
At White Plains Hospital, Dr. Chin continues her commitment to provide exceptional clinical care to her patients, bringing her extensive experience in treating both benign and malignant conditions of the chest and its structures to our community. Using minimally invasive video-assisted techniques (VATS) in the treatment of cancers of the lung, esophagus, and thymus as well as myasthenia gravis, her patients recover faster, have minimal pain and fewer complications, and resume active, functional lives more quickly.
Access Cynthia Chin, MD's
latest articles, videos, and featured media
Dr. Chin earned her medical degree with honors from the State University of New York at Stony Brook School of Medicine. She completed her General Surgery residency at St. Vincent's Hospital, formerly in Manhattan. During this training, she devoted two years as a Surgical Oncology Research Fellow at the Medical College of Virginia studying the interactions of the human immune system with cancers.
Following her General Surgery training, Dr. Chin completed Fellowship training in Cardiothoracic Surgery at the Mount Sinai Medical Center in Manhattan, and then further refined her skill and expertise as the Clinical Fellow in Thoracic Surgery at University of Pittsburgh, where she received advanced specialty training in the minimally invasive surgical management of esophageal cancer.
After completing her training, Dr. Chin was appointed Assistant Professor of Cardiothoracic Surgery at The Mount Sinai Medical Center where she established a busy practice prior to relocating to White Plains.
In addition to providing exceptional care to her patients, Dr. Chin has published scholarly work in numerous well respected medical journals and has contributed to textbooks on minimally invasive surgery of the chest. Her most recent publications include two chapters, one entitled Treatment of Multiple Lung Cancers and the other, Surgical Treatment of Pulmonary Metastases. Both are published in 2011 Cardiothoracic Surgery Review. She has also contributed video chapters to The Atlas of Minimally Invasive Thoracic Surgery, which is widely respected as a resource for Thoracic surgeons seeking advanced knowledge in state-of-the-art Thoracic surgical techniques.  Dr. Chin has repeatedly been named a Top Doctor by Castle Connoly Medical.
"White Plains Hospital is a state-of-the-art facility, offering advanced technology and highly skilled clinicians in every major discipline. In many ways, I believe White Plains is superior to larger institutions because we are close to home but have with the capability of performing the same technically advanced surgeries one expects of larger academic centers. We can provide that same exceptional level of care due, in large part, to the fantastic teamwork provided by our unique group of the nurses, anesthesiologists, and intensive care physicians." – Dr. Cynthia Chin
Awards & Honors:
New York Magazine: NY's Best Doctors- Thoracic & Cardiac Surgery- 2018, 2019, 2020
Castle Connolly Top Doctors-Thoracic Surgery-2018 & 2019
1997 – Alpha Omega Alpha Medical Honor Society
Society of Surgical Oncology
John Ewing Society
Recent Patient Comments
In The News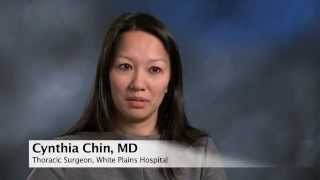 Meet Our Doctor Video
A Video by Dr. Chin
Read more news at
Health Matters
, a White Plains Hospital publication.
Education & Training
Medical Degree
Stony Brook University Medical Center School of Medicine
Post-graduate Training
Fellowship - Thoracic Surgery, University of Pittsburgh
Fellowship - Cardiothoracic Surgery, The Mount Sinai Medical Center
Research Fellow - Surgical Oncology, Medical College of Virginia, formerly
Residency - General Surgery, Saint Vincent's Hospital and Medical Center, formerly
Board Certification(s)
General surgery
Cardiothoracic surgery
Membership(s)
Society of Thoracic Surgeons, Member
American College of Surgeons, Fellow
American Association for Cancer Research, Member
Women in Thoracic Surgery, Member
Institutional Affiliations
Overall Satisfaction
57 Ratings |
Aggregate Rating